GANELIN TRIO PRIORITY
Vyacheslav Ganelin - piano, synthesizer, percussion
Petras Vysniauskas - soprano saxophone
Klaus Kugel - drums, percussion


DVD Liner Notes by Wolf Kampmann, Berlin, 2006

GANELIN TRIO PRIORITY - LIVE AT THE LITHUANIAN NATIONAL PHILHARMONY VILNIUS 2005
(Nemu 005)

Music, no matter what genre, becomes most vivid when it tells a story about ourselves. But the narrative freedom to produce fields of association that go beyond existing images must be fought for over and over again. In the 70´s, the pianist Vyacheslav Ganelin was considered exceptional. In soviet Lithuania he took part in a form of music that was called - without any questioning - free jazz.
In European jazz, the boldness of the Ganelin Trio´s inventiveness was without comparison. The trio possessed an inexhaustible richness of sounds, ornaments, spontaneous moving forces, open structures, dramaturgies, and switching functions within the band.
Every performance became genesis. Being able to play without set pieces Ganelin and his companions, saxophonist Vladimir Chekasin and drummer Vladimir Tarasov, found a new definition for improvisation. The friction between inner freedom and outer constraint triggered eruptions whose forms ranged from romantic elegy to raging fury - these eruptions were kept under control by their creators at all times.
Since the postulate of unlimited free expression without a defined goal could have caused revolutions, the Ganelin Trio was heard mainly in the western world.
Overnight it became quiet around Vyacheslav Ganelin. Just before politics in Europe changed irreversably the trio dissolved and the pianst disappeared in Israel. Times became fast-moving and the laws of the ubiquitous free enterprise left little space for dreams. After the era of great visions no one needed the sweeping formats of a Vyacheslav Ganelin any more.
In life, just like in any of his improvisations, the pianist was sensitive enough to know exactly when to end an artistic statement.
With saxophonist Petras Vysniauskas, the second central figure in Lithuanian jazz, and German drummer Klaus Kugel there now exists a new Ganelin Trio. Is nostalgia part of the game here? Why not? It would be a criminal misjudgement of the Baltic soul not to be willing to perceive the sediments of nostalgia in all of its statements. But now, as then, the timeless nature of Ganelin´s music is characterized by being able to transform an insatiable longing into productive power. Ganelin, Vysniauskas and Kugel are more than just plain avant-gardists that break up all connections behind them just to pay tribute to some future aesthetic. They make use of the method of American jazz in order to listen deeply into the European musical tradition. That way, they shed light on great gestures of baroque music, they internalize the painful individualism of Romanticism and recapitulate the careless lightness of traditional folk music. It is no less than trans-European, inter-traditional and multi-sensual improvised music.
What was said above about their rich musical supply is also true without exception for the pianists new formation. With Vysniauskas and Kugel, Ganelin may be less missionary and pugnacious as in the 70´s. But in an age of euphemisms where all fronts have been veiled or dissolved, precisely translatable statements make sense only for the most ardent of idealists. Today´s Ganelin Trio draws from the variety of life an even greater amount of options and perspectives. By not submitting to the worn out primacy of the moment but instead implicating the freedom of the whole process in every moment of their play the new Ganelin Trio is without comparison in European music.


____________________________________________________________


Musik, egal welchen Genres, ist immer dann am eindringlichsten, wenn sie uns eine Geschichte über uns selbst erzählt. Die narrative Freiheit, Assoziationsfelder jenseits vorgegebener Bilder zu erspielen, will jedoch immer wieder neu erstritten werden. In den siebziger Jahren galt der Pianist Vyacheslav Ganelin als Ausnahmefall. Im sowietischen Litauen partizipierte er an einer Musik, die man unhinterfragt Free Jazz nannte.
Die Kühnheit der intuitiven Erfindungskunst des Ganelin Trios war im europäischen Jazz ohne Vergleich. Das Trio verfügte über einen schier unerschöpflichen Reichtum an Klängen, Ornamenten, spontanen Weichenstellungen, offenen Strukturen, Dramaturgien und Funktionsverschiebungen innerhalb der Band.
Jede Performance wurde zur Genesis. Ganelin und seine beiden Kompagnons, Saxofonist Vladimir Chekassin und Drummer Vladimir Tarasov, definierten den Begriff der Improvisation neu, indem sie völlig ohne Versatzstücke auskamen. Die Reibung zwischen innerer Freiheit und äußerer Unfreiheit löste Eruptionen aus, deren Formen von romantischer Elegie bis zu rasender Wut reichte - und doch von ihren Schöpfern zu jedem Zeitpunkt unter Kontrolle gehalten wurde.
Gehört wurde das Ganelin Trio vor allem im Westen, denn das Postulat der uneingeschränkt freien Äußerung ohne jegliche Zielvorgabe hätte Revolutionen auslösen können.
Von einem auf den anderen Tag wurde es still um Vyacheslav Ganelin. Kurz bevor sich Ende der Achtziger die politischen Vorzeichen in Europa unumkehrbar ändern sollten, zerfiel das Trio und der Pianist verschwand in Israel. Die Zeiten wurden schnelllebiger, die real existierende Marktwirtschaft ließ wenig Gelegenheit zum Träumen. Nach dem Ende der großen Visionen brauchte niemand mehr die ausladenden Formate eines Vyacheslav Ganelin.
Wie in jeder seiner Improvisationen, so war der Pianist auch im Leben feinfühlig genug, exakt den Zeitpunkt für das Ende einer künstlerischen Aussage zu bestimmen.
Mit Saxofonist Petras Vysniauskas, der zweiten Integrationsfigur des litauischen Jazz, und dem deutschen Schlagzeuger Klaus Kugel gibt es jetzt ein neues Ganelin Trio. Ist da Nostalgie im Spiel? Warum nicht? Es hieße die baltische Seele sträflich zu verkennen, wollte man ihr nicht bei jeder ihrer Äußerungen einen Bodensatz an Nostalgie zubilligen. Doch die Zeitlosigkeit in Ganelins Musik - damals wie heute - besteht eben genau darin, diese unstillbare Sehnsucht in eine produktive Kraft zu transformieren. Ganelin, Vysniauskas und Kugel sind keine platten Avantgardisten, die hinter sich alle Brücken abbrechen, um allein einer Ästhetik der Zukunft Tribut zu zollen. Sie bedienen sich der Methodik des amerikanischen Jazz, um selbstbewusst in die Tiefen der europäischen Musiktradition zu lauschen. So fördern sie die großen Gesten des Barock zutage, verinnerlichen den schmerzvollen Individualismus der Romantik und rekapitulieren die unbekümmerte Leichtigkeit von Volksliedern. Eine transeuroäische, intertraditionelle und multibefindliche Improvisationsmusik, nicht weniger.
Was weiter oben über den spielerischen Fundus des alten Ganelin Trios gesagt wurde, trifft ohne Einschränkungen auch auf die neue Formation des Pianisten zu. Mit Vysniauskas und Kugel ist Ganelin vielleicht etwas weniger missionarisch und kämpferisch als in den Siebzigern. Doch in einer Epoche der Euphemismen, in der sich alle Fronten verklärt und aufgelöst haben, sind präzise übersetzbare Statements nur noch für unverbesserliche Idealisten relevant. Das Ganelin Trio von heute schöpft aus der Vielfalt der Lebens eine noch größere Fülle der Möglichkeiten und Perspektiven. Indem es sich nicht dem überstrapazierten Primat des Augenblicks beugt, sondern in jedem spielerischen Moment die Freiheit des gesamten Prozesses impliziert, ist auch das neue Ganelin Trio ohne Vergleich in der europäischen Musik.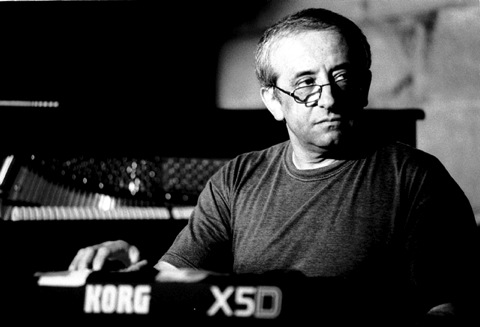 photo by Matthias Creutziger